Celebrate the Year of the Rabbit!
Celebrate the Year of the Rabbit
The rabbit 🐇 is the luckiest of the 12 animals in the Chinese zodiac. Therefore, you can expect this year to bring prosperity, hope, and calm. While 2022 was a yang year, meaning it was more about action and (the rabbits were sure active in the garden!) 😫, 2023 will be a yin year and much more passive.
The spiritual meaning of the rabbit symbolizes fertility, luck, and creativity, as well as compassion.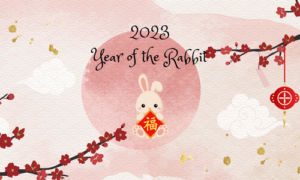 Rabbits
According to Chinese astrology, individuals born in the year of the rabbit are thought to be gentle, quiet, elegant, and alert. Also quick, skillful, kind, patient, and very responsible, sometimes reluctant to reveal their minds to others and tend to escape reality, But always faithful to those around them. They are usually associated with springtime and new beginnings, and these happy critters are a reminder that life is full of possibility.
In prior newsletters, I have mentioned rabbits. Once in the context of wanting a Peter Rabbit as a pet and not being allowed to own one. I also talked about the rampant destruction of our garden – eating flowers and vegetables. They are neither kind nor gentle at our house, and the dogs cannot catch them.
Here is an update on the 2023 Schneider's garden.
My initial plantings cost more than $200.00, not including the Thai plants (they cost over 100.00) we installed a few months prior. We live on a preserve, and the furry little creatures devoured all five mature Thais in one evening. They must have made a great dinner! I must presume the Marigolds were desert. The rabbits apparently did not get the memo that bunnies don't like Marigolds!! They also seemed to enjoy the Salvia, Zinnias, Begonias, Snapdragons, and other green and flowering plants that generally do not appear on the rabbit's menu of choice.
Not to be deterred, Jeff put legs on my three troughs to make it waist high, and I happily set out to salvage what I had left and replenish my veggies. Kaching, kaching 💰💰, I spent another $100.00 or so. I covered the top with netting to protect the marigolds and assorted lettuce. However, the Shishito peppers and eggplant were too large for the troughs, so I put them into pots. I thought the bunnies had previously satisfied their appetites; however, I was wrong, so very wrong. The plants were eaten down to the soil line.
After purchasing plants for the third time and spending another $100.00+, I determined enough was enough. And what will live will live. 2022 was a year of action, and 2023 is set to be more passive. Unfortunately, the rabbits in our yard are anything but. I probably should have been visiting Sprouts, not Pinders, Saturday mornings and saving money.
Celebrate the year of the rabbit. What does a Rabbit – a yin year have to do with tax season? As much as we would like not to take any action assembling tax documents and setting up an appointment with your tax pro, we need to put on our big girl panties and get to it. 2023 will be calm, not passive. The IRS announced that efiling begins on January 24, 2023, and recommended not procrastinating this year and filing early. Additionally, pay your tax bill online, not a check in the mail.
Here are a few more tips regarding this year's taxes:
The standard deduction for 2023 (which will be helpful when you file in 2024) increases to $13,850 for single filers and $27,700 for married couples filing jointly. In addition, tax brackets increase: The income tax brackets will also increase in 2023.
Taxpayers should receive Form 1099-K, Payment Card, and Third Party Network Transactions by January 31, 2023, if they received third-party payments in the tax year 2022 for goods and services that exceeded $600. As an example, Zelle, PayPal, etc.
During COVID, taxpayers could take up to a $600 charitable donation tax deduction on their tax returns. However, in 2022, those who take a standard deduction may not take an above-the-line deduction for charitable donations.
Although the IRS issues most refunds in less than 21 days, the IRS cautions taxpayers not to rely on receiving a 2022 federal tax refund by a specific date, especially when making major purchases or paying bills. In addition, some returns may require additional review and may take longer to process if IRS systems detect a possible error, the return is missing information, or there is suspected identity theft or fraud.
The fastest way to get a tax refund is by filing electronically and choosing direct deposit. Direct deposit is quicker than waiting for a paper check in the mail. It also avoids the possibility that a refund check could be lost, stolen, or returned to the IRS as undeliverable.
 Booking your tax prep appointment:
As always, you can book your tax prep appointment to suit your needs via Zoom, a phone call, or in person. You can upload to the secure portal, drop off your file, or mail it in.
To book an in-person or virtual meeting online, https://go.oncehub.com/SFSTax or at https://sfstaxacct.com/request-appointment/.
Call the office at 772-337-1040 with questions or concerns, or contact us at https://sfstaxacct.com/contact/.
Just so you know, I still enjoy watching the bunnies scamper away after having a staring contest with Aylin, our Husky. So Celebrate the Year of the Rabbit and enjoy the calm and prosperity.
Ali "still gardening" Schneider
Director of Business Development
A Bit of Tax Humor
Ever wonder why the IRS calls it Form 1040?
Because for every $50 that you earn, you get $10, and they get $40.